Newsletters
Browse all HSSW Newsletters HERE
Sign Up to Receive Our Newsletter
The Latest Edition
The Humane Society of Southern Wisconsin
HSSW Eager to Break Ground for New Shelter
Featured in the Janesville Gazette
After delays, changes in leadership, the pandemic and a complete redesign, the Humane Society of Southern Wisconsin was ready to break ground on its long-awaited new building this month. Then a new problem slammed the brakes on the project: a national steel shortage.
Jim McMullen, the humane society's executive director, said the kind of steel roof trusses needed for the building normally would have been delivered in three to four weeks, but when Corporate Contractors Inc. ordered the steel, they were told the delivery wouldn't come until January. The problem was a major U.S. business had preordered massive amounts of the trusses this year, McMullen said.
Brush has been cleared and survey stakes are in the ground at the site of the new Humane Society of Southern Wisconsin on County G/Prairie Street south of Janesville. Groundbreaking is expected in June.
YOU Can be a part of this Vital Project!
Visit our website for more information on Naming and Recognition Opportunities as well as gifts and general donations to our Capital Campaign.
Calling All Animal Lovers!
We are happy to announce that our volunteer program has officially started back up and we are now offering virtual orientations! If you are an animal lover and want to help pets go home - apply to become a volunteer with The Humane Society of Southern Wisconsin! We have many volunteer positions available, including canine companions, feline friends, event volunteer, cleaner, foster, and more! You must be 16 years of age to volunteer by yourself or 8 years of age with a guardian who is 18 years of age or older. For more information on volunteering, please visit our website!
Pets that were reunited with their owners last month:
45
Pets that found loving forever homes last month:
155
Total adoptions this year through last month:
602
Congrats to our 2021 Cutest Pet Photo
Contest Winner!
Bissell Pet Foundation Helped us Empty the Shelter!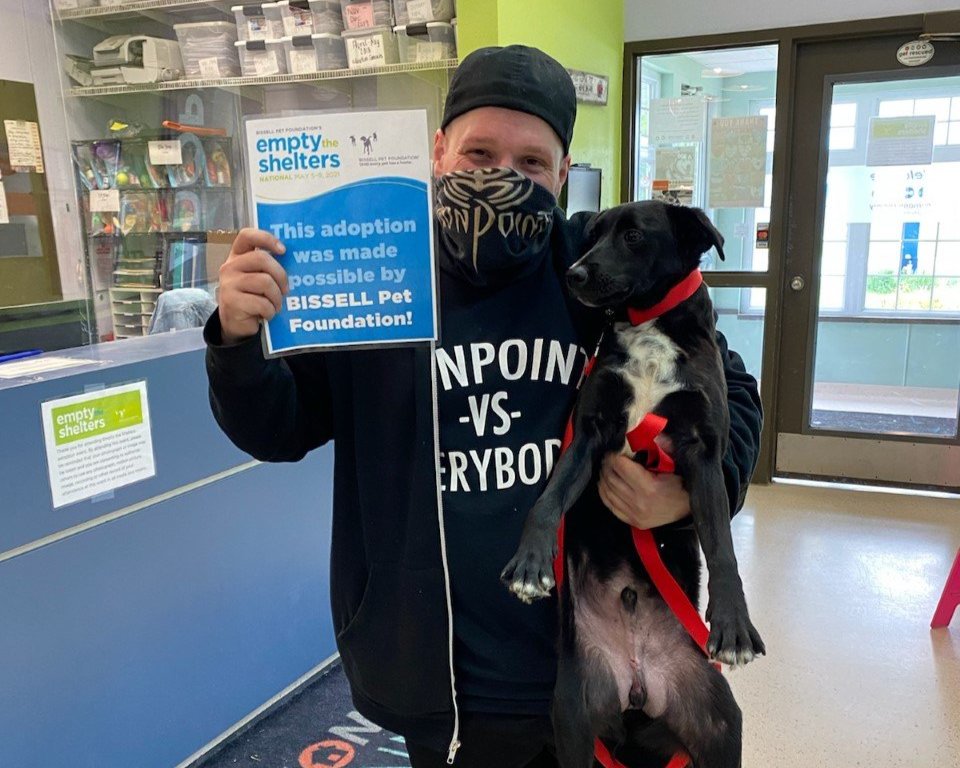 Congratulations to Puddy who has won the coveted cover spot on the 2022 Humane Society of Southern Wisconsin Cutest Pet Photo Calendar! It was an exciting race right up until the last minute with many upsets in the leaderboard. Eleven pets, in addition to Puddy, will be featured on each month of the calendar. To check out the winning pets and other contest participants, visit our contest website! Thanks to all contest participants and voters, we raised over $10,000 to help pets go home!
On Wednesday May 5th through Sunday May 9th, adopters had the opportunity to adopt a new best friend from HSSW for $25 and BISSELL Pet Foundation sponsored the remaining cost! Together with Bissell, we helped 41 pets go home! While we didn't quite 'empty the shelter' we are grateful that so many pets found loving forever families. If you are interested in adding a new furry addition to your family, please browse our website or give us a call at 608-752-5622!
Mounds Adoption Event at Janesville Mounds
Upcoming Events
---
August 7, 2021 (11:00am - 1:00pm) -
Please stop by and meet some of our adoptable pets who are looking for a great home! You can speak to some of our amazing volunteers to learn...
August 18, 2021 (6:00pm - 9:00pm) -
Join The Humane Society of Southern Wisconsin at Lucy's Hideaway on August 18th from 6-9pm. Brooke Nunn will be performing live and there will be raffle...
News & Announcements
---
JANESVILLE, Wis. (WMTV) -The Humane Society of Southern Wisconsin in Janesville is getting ready to break ground on a new facility. This project has been about five years...
JANESVILLE, WI – Humane Society of Southern Wisconsin Board President Sandy Bennett and Executive Director Jim McMullen, along with McKnight Excavating, Corporate Contractors, Inc., Angus-Young Associates, and honored...